The most successful companies are those knowing how to adapt to change – and how to lead their employees through it. This means finding leaders who can handle both the professional and the emotional needs of their employees. Who would guess digital tools to be a main component in this transformation? The Swedish construction company, Dryft, sure knows how to make their employees everyday heroes!
Cracking the code for growth
In the construction industry, a large part of the value is determined by the quality of the services provided in construction, engineering, and management. The demand for these services has increased steadily in recent years, as more people choose to build or renovate their homes. This has led to increased competition between companies offering these services.
But the construction company Dryft has cracked the code of success and is currently recruiting ten new employees – every month. Daniel Lindgren is co-founder of the innovative company, which has succeeded in something that many small craft companies dream of, i.e. scaling up on the consumer market.
Daniel Lindgren is convinced that their success is largely due to three main elements: digital marketing, pinpointing of their target group, and focusing on the employees to inspire them to work towards the company goals.
Digitalization creates a better company culture
The Digimeter shows that digitalization minimizes misunderstandings since everyone on site has access to the latest data. Features in the digital tool help keeping track of costs and changes, which also makes quotes and agreements clearer to the customer since everything is documented. All these factors contribute to a better working environment and company culture. With more transparency, the employers are more engaged and can make better decisions. Customers on the other hand, feel more informed.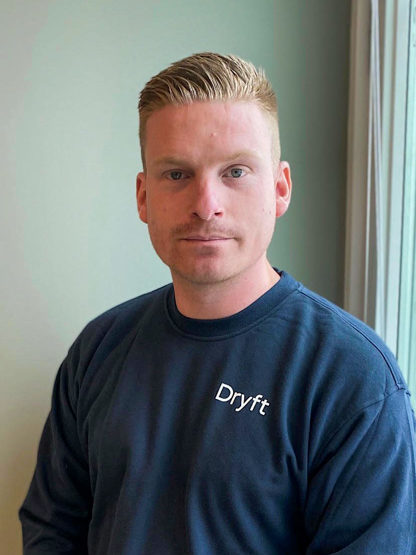 Thus, the future of the construction industry is not just about technology. The future is about making the industry more humane, more inclusive, and more sustainable. Daniel Lundgren, co-founder of Dryft, is leading the way.
– The construction industry must professionalize the way we build companies. Realize that it is an organization you are building! When you hire someone, you take on a responsibility, says Daniel Lindgren. Lack of work due to the manager not keeping track of his client acquisitions is a very common thing – you must realize that your inability to bring in new business affects others. To succeed in scaling up in the private sector, you must improve your offer not only to your customers, but also to employees.
What digital tool suits your company?
Research different digital tools to see what fits both your business size and your goals for the future. Do you need a big platform to manage a construction site, or a tool for a smaller business that can handle time reporting, quotas, and invoicing. SmartCraft offers project management tools ranging from basic to advanced needs, allowing companies new possibilities as they grow. The good news is that it is easy to prepare your company for the digital change – and quickly to even benefit from it. But to crack the code to even more success you need to plan how to use the technology in every element of your business!
Learn more directly from Daniel Lindgren at Bygg[R]evolution